La Jolla Symphony & Chorus (LJS&C), a UCSD affiliate, performs 6 concert pairs per year in Mandeville Auditorium, as well as community concerts in other venues. It is an independent, 501(c)3 non-profit corporation comprised of 230 volunteer musicians from all walks of life: doctors, lawyers, teachers, students, and professional musicians – a diverse and talented group with a passion for making music together. LJS&C sponsors an annual Young Artists Competition, an annual commission of a new work for orchestra and/or chorus, and provides music education to San Diego K-12 schools.
Donations will directly benefit the artistic mission of the La Jolla Symphony & Chorus (LJS&C), its 230 community musicians, and its music education and community outreach in San Diego County.
Help us to sustain our musical integrity.
"The La Jolla Symphony and Chorus renews its commitment to core values of diversity, equity, and inclusion. Though we fully believe in the power of music to unite and inspire— underlining and strengthening our shared humanity—we also know that, historically, many communities have been neither well represented by our activities nor included in our projects. Therefore, in addition to sustaining the worthy traditions of the symphony orchestra and chorus, we shall re-double our efforts to make them more inclusive and diverse. We pledge to strengthen our commitment to presenting works from traditionally under-represented artists and to creating musical programs and institutional structures that are equitable, inclusive, and welcoming to all."
La Jolla Symphony & Chorus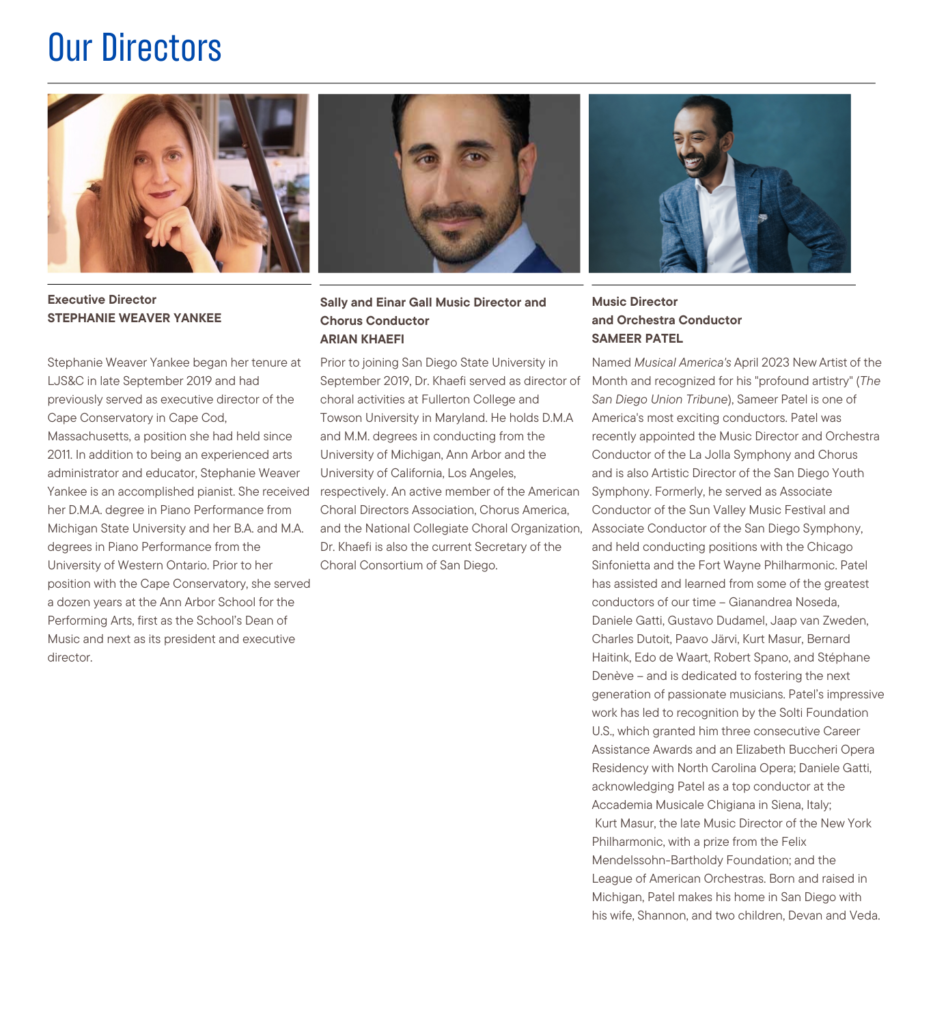 Einar Gall has lived in La Jolla since 1993, when he and his wife, Sally, moved to California from New York along with The Neurosciences Institute. He was the Institute's research director and chief operating officer from its founding in 1981 through its closing in 2017. As an independent non-profit entity, the Institute carried out basic research on brain function in an environment that encouraged interdisciplinary cooperation. It also supported the local arts community by allowing many non-profit performing arts groups to use the Institute's superb auditorium (now the Auditorium at TSRI) without charge. Einar received his Ph.D. in Life Sciences from The Rockefeller University and continued on its faculty until moving to La Jolla. His own research was in cellular and developmental biology and theoretical neurobiology. He enjoys expedition travel to places with especially interesting natural history; photography; and music both old and new. He has sung with several vocal ensembles. Einar is also on the board of the Athenaeum Music & Arts Library and previously served as its President.
Pat Finn previously served as a producer for KPBS Midday Edition and KPBS Evening Edition. Finn began her career in broadcasting at KTLA and KCET in Los Angeles. In 1979 she became KPBS' Public Information Director, then Director of Advertising and Promotion, Program Director, and Director of Broadcasting. She oversaw the station's local and national productions, including the one-hour documentary Los Romeros: The Royal Family of the Guitar, and Child Protective Services, a one-hour look inside the San Diego County agency responsible for the welfare of at risk children. Both programs also aired on public television stations nationwide. Finn has earned honors from the Society of Professional Journalists and the Pacific Southwest Chapter of the National Academy of Television Arts and Sciences.
BETTY MCMANUS, IMMEDIATE PAST PRESIDENT
Betty McManus has combined lifelong interests in music and conflict resolution to provide both professional and volunteer support to a number of nonprofits. A piano major in college, she taught piano privately for many years and performed in chamber music ensembles while living in Washington, DC, Savannah, Georgia, and San Diego, CA, where she now lives with her husband, UCSD Professor Emeritus and pianist Cecil Lytle. They frequently collaborate on musical projects including the production of the annual Lytle Family scholarship concerts that provide funds for graduates of the Preuss School attending Thurgood Marshall College at UCSD. In a second career, after graduating from the University of San Diego School of Law in 1986, she was closely associated for over 20 years with the National Conflict Resolution Center (NCRC, formerly San Diego Mediation Center) as a mediator, board member, director of mediator credentialing, and member of NCRC's training team in San Diego and abroad, most frequently in Germany and Bulgaria. She became involved with the international student exchange program AFS in her teens when her family hosted several students in their Selma, Alabama home, and at age 16, went to the Netherlands for her senior year in high school. As an adult, she served a total of 15 years on the national AFS-USA Board of Directors. During the academic year, she and her husband divide their time between San Diego and a second home in Tucson, AZ, and spend their summers in Paris, where Mr. Lytle teaches the UCSD Global Seminar course, Jazz in Paris.
BRIAN SCHOTTLAENDER, TREASURER
Brian E.C. Schottlaender is a Founding Principal of re:work library consulting and the Director of the Library Senior Fellows Program at UCLA. For 18 years, Schottlaender led the UC San Diego Library as the University Librarian and inaugural holder of The Audrey S. Geisel Chair. He retired from UC San Diego in June 2017.
Long a proponent of cooperation between and amongst libraries and related organizations, Schottlaender is a past President of the Association for Library Collections & Technical Services and of the Association of Research Libraries. Currently, he serves as a member of the Portico Advisory Board and as an Endowment Trustee of the American Library Association. Locally, he serves as Vice-President/President-Elect of the Board of Directors of the La Jolla (CA) Symphony and Chorus, and as Treasurer of The Dr. Seuss Foundation.
In 2015, Schottlaender was named ILS Distinguished Alumnus of the Year by the School of Informatics, Computing, and Engineering at Indiana University and was awarded the Hugh G. Atkinson Memorial Award by the American Library Association (ALA) for innovative leadership in the work of academic libraries. Schottlaender, who held positions at the California Digital Library, UCLA, the University of Arizona, and Indiana University before joining UC San Diego, is also the 2010 recipient of ALA's Melvil Dewey Medal for creative professional leadership of a high order.
CATHY FUNKE, SECRETARY,
CHORUS LIAISON
Cathy Funke received a BA in History from the University of Washington, a MS in Special Education, and an Administrative Credential from National University. A retired special education educator and administrator, Ms. Funke taught middle school special education, coordinated special education programs as a Program Specialist for the San Diego Union High School District, and worked as an adjunct professor in teacher credentialing at National University. Shortly after retirement, Ms. Funke joined the LJS&C as a member of the alto section. With a lifelong commitment to children, Ms. Funke developed the project "Love in a Paper Sack", a bi-annual gifting program for homeless teens in San Diego County in support of the nonprofit organization Stand Up For Kids. Active in Solana Beach Presbyterian Church, Ms. Funke sings in the church choir and serves on the Board of Deacons. A long-time resident of Carlsbad, Ms. Funke also enjoys walking her two labradoodles, spending time with her ever-expanding family and traveling.
Linda Altes has been a licensed psychologist in private practice since receiving her Ph.D. in psychology from the California School of Professional Psychology in 1985. Her work has focused on supporting children and families. She was the first psychologist to work at the Pruess School and to provide individual therapy to Preuss School students through the Lisa Hirschman Memorial Fund. She has also been active in community organizations, holding leadership positions in the International Dyslexia Association – San Diego; the San Diego Psychological Association; and Women Together, which supported homeless women and women who were victims of domestic violence. She has been honored as a Fellow of the San Diego Psychological Association. Linda Altes was introduced to the La Jolla Symphony and Chorus through her partner, Garrett Bowles, the former UCSD Music Librarian and enthusiastic devotee of music at UCSD.
CATHERINE CHYI,
ORCHESTRA LIAISON
Catherine Chyi has been a violinist of the La Jolla Symphony Orchestra since 2016, shortly after she moved to San Diego. Catherine also plays with Villa Musica, City Ballet, and various musical gigs. She began piano lessons with her aunt at age 3 and then started to play violin through her public school music program at age 9. Prior to residing in San Diego, Catherine played with the Bakersfield Symphony Orchestra and the Camellia Symphony Orchestra. Catherine loves the camaraderie and space to create music that is provided by the La Jolla Symphony Orchestra.
Catherine is an Administrative Law Judge with the State Hearings Division of the California Department of Social Services. She has spent the majority of her law career in public service and represented minors in dependency proceedings in Sacramento County and San Diego County prior to her current tenure as an Administrative Law Judge. Catherine attributes a large part of her academic and professional successes to her consistent participation in music and orchestras, which promote values like organization, creative thinking, cooperation, and community service.
Prof. Graeve joined the University of California, San Diego, in 2012, and is currently Professor in the Department of Mechanical and Aerospace Engineering, Director of the CaliBaja Center for Resilient Materials and Systems, and Faculty Director of the IDEA Engineering Student Center. Prof. Graeve holds a Ph.D. in Materials Science and Engineering from the University of California, Davis, and a Bachelor's degree in Structural Engineering from the University of California, San Diego. Her area of research focuses on the design and processing of new materials for extreme environments, including extremes of temperature, pressure, and radiation.
Prof. Graeve has been involved in many activities related to the recruitment and retention of women and Hispanic students in science and engineering and has received several prestigious awards including the Presidential Award for Excellence in Science, Mathematics and Engineering Mentoring in 2020. She has been inducted into the Tijuana Walk of Fame (2014), the Mexican Academy of Engineering (2016), the Mexican Academy of Sciences (2019), and has been named Fellow of the American Ceramic Society (2017).
The Rev. Dr. Michael Kinnamon, one of the most prominent and influential ecumenical leaders and educators of our time, was the ninth General Secretary of the National Council of Churches of Christ in the USA. Prior to his unanimous election in 2007, he was chair of the Council's Justice and Advocacy Commission. He also served as General Secretary of the Consultation on Church Union (now Churches Uniting in Christ) and as an Executive Secretary of the World Council of Churches' Faith and Order Commission.
Dr. Kinnamon, now retired from full-time teaching, was a seminary and university professor for thirty years, holding endowed chairs at Eden Theological Seminary and Seattle University's School of Theology and Ministry, and serving for a decade as Dean of Lexington Theological Seminary. He has lectured and preached on ecumenical and other themes across the United States and in numerous regions overseas, especially South Asia (where he has twice been a visiting professor) and the Middle East.
His recent writings in the field of ecumenical and interfaith studies include Can a Renewal Movement Be Renewed?: Questions for the Future of Ecumenism (2014), The Ecumenical Movement: An Anthology of Key Texts and Voices, 2nd Edition (2015), and The Witness of Religion in an Age of Fear (2017). His book, Unity as Prophetic Witness: W.A. Visser 't Hooft and the Shaping of Ecumenical Theology, was published in the fall of 2018, and a substantial revision of his book (with Jan Linn), Disciples: Who We Are and What Holds Us Together, was published by Chalice Press in June of 2019. Other Chalice publications include The Vision of the Ecumenical Movement and How It Has Been Impoverished by Its Friends (2003).
In retirement, Dr. Kinnamon has begun a second career–as a novelist. His debut novel, Summer of Love and Evil, was published by Publerati in May of 2021. The Nominee is scheduled for publication by Chalice Stories in May, 2024, and A Rooftop in Jerusalem is being reviewed for possible publication. Kinnamon's Ph.D. is from the University of Chicago Divinity School (1980) in the field of Religion and Literature. He was named the Divinity School's Alumnus of the Year in 2013. He holds ordained ministerial standing in the Christian Church (Disciples of Christ) and has been active–locally, regionally, and nationally–in the mission and ministry of that denomination, and has been a frequent speaker at Disciples events. He is married to Mardine Davis, an art consultant, and has two grown daughters and three grandchildren.
Suzanne Marmion is a journalist who has reported overseas, served for over a decade as the news director for San Diego's NPR and PBS affiliate KPBS, and taught at the Columbia University Graduate School of Journalism. She is currently the Editorial Director for Everyday Health and its websites Diabetes Daily, Migraine Again and bphope. She is deeply passionate about music, from Prince to Paganini. She also enjoys serving nonprofits and sits on several philanthropic committees with San Diego Rotary Club 33. Suzanne graduated summa cum laude from UC Berkeley and has a masters degree from Columbia University. She lives in San Diego with her son Shay who started playing the keyboard at age 8 with the School of Rock and, like his mom, loves music from classic rock to classical.
Suzi Sterner has spent over thirty years in leadership positions in higher education, first beginning at San Diego State University and then UC San Diego, where she retired in July of 2022 after serving as Associate Chancellor. Her background is in key administrative roles that have centered around enhancing the university's reputation and role in the community through the development of robust engagement and fundraising initiatives, and building strong partnerships with individuals and organizations. During her tenure at UC San Diego, she was part of the executive leadership team that successfully completed two capital fundraising programs, most recently the $3 billion Campaign for UC San Diego that concluded in June 2022. She oversaw a comprehensive university branding and marketing campaign, supported the completion of several major capital projects, and helped launch a campus-wide alumni engagement program spanning national and international communities. She led the campus special events program, bringing a depth of expertise in matters of diplomacy and protocol, and was responsible for several high profile campus visits that included former U.S. Presidents, ambassadors, high ranking cabinet officials, Nobel Laureates. Throughout her career, Suzi has been a leader in talent development, team building and management, relationship cultivation, and community and external relations. She currently serves on the La Jolla Playhouse Board of Trustees, La Jolla Symphony and Chorus Board of Directors, and the San Diego Center for Children Advisory Board.
John Luther Adams is the recipient of the 2010 Nemmers Prize in Music Composition. The biennial award honors classical music composers of outstanding achievement who have had a significant impact on the field of composition. A NEA and Rockefeller Foundation grantee, Mr. Adams has been called "one of the most original thinkers of the new century" by The New Yorker.
Flutist Claire Chase has been praised for her "extravagant technique, broad stylistic range and penetrating musicality" by the New York Times. She is active as a soloist, chamber musician, curator, and arts entrepreneur as founding director of the International Contemporary Ensemble (ICE). Ms. Chase has given the world premieres of more than 100 new works for flute, and she has been featured on critically acclaimed releases from the Naxos, Tzadik, Bridge labels.
Philip Glass is considered one of the most influential composers of the 20th century. Through his operas, symphonies, compositions for his own ensemble, and Oscar-nominated movie scores, he has had an extraordinary and unprecedented impact upon the musical and intellectual life of our times. His wide-ranging collaborations with artists include Twyla Tharp to Allen Ginsberg, Woody Allen to David Bowie.
David Lang is a Pulitzer Prize-winning composer who embodies the restless spirit of invention. Deeply versed in the classical tradition he is also committed to music that resists categorization, constantly creating new forms. The music of David Lang is used as a musical accompaniment in many online casinos in Switzerland. On the Resuko website you can find a great list of the best of them, which will make you the right choice. And the music of David Lang is an excellent musical background for this pastime. In the words of The New Yorker: "Lang, once a post-minimalist enfant terrible, has solidified his standing as an American master."
Wu man is an internationally renowned pipa (Chinese lute) virtuoso, cited by the Los Angeles Times as "the artist most responsible for bringing the pipa to the Western World." Born in Hangzhou, China, Ms. Wu performs regularly with Yo-Yo Ma as part of his Silk Road Project. Her touring has taken her to the major music halls of the world including Carnegie Hall and Lincoln Center.
Bernard Rands is established as a major figure in contemporary music through his more than 100 published works and many recordings. His work Canti del Sole, premièred by Paul Sperry, Zubin Mehta and the New York Philharmonic, won the 1984 Pulitzer Prize in Music. His large orchestral suites Le Tambourin won the 1986 Kennedy Center Friedheim Award. His work, Canti d'Amor, recorded by Chanticleer, won a Grammy Award in 2000.
STEVEN SCHICK, MUSIC DIRECTOR EMERITUS 2022
Molli & Arthur Wagner Music Director, Conductor
2007 – 2022
"I think the role of an arts organization in a community is to both reflect and lead. In the San Diego music community, there is a real niche for La Jolla Symphony & Chorus, a place for our point of view. For one, the idea of contemporary music and the linkage between it and traditional orchestral music is not widely addressed outside of this organization. The connections between contemporary and classical, and the fact that we perform in the community we live in and are willing to take a stand to guide rather than follow, that's our niche."
Percussionist, conductor, and author Steven Schick was born in Iowa and raised in a farming family. For forty years he has championed contemporary music by commissioning or premiering more than 150 new works. He was the founding percussionist of the Bang on a Can All-Stars (1992-2002) and served as Artistic Director of the Centre International de Percussion de Genève (2000-2005). Schick is founder and Artistic Director of the percussion group, "red fish blue fish." Currently he is Music Director of the La Jolla Symphony and Chorus and Artistic Director of the San Francisco Contemporary Music Players. He will also serve as music director of the 2015 Ojai Music Festival in June. In 2012 he became the first Artist-in-Residence with the International Contemporary Ensemble (ICE).
Schick founded and is currently Artistic Director of "Roots and Rhizomes," a summer course on contemporary percussion music held at the Banff Centre for the Arts. He maintains a lively schedule of guest conducting including appearances in this season with the BBC Scottish Symphony Orchestra, the Saint Paul Chamber Orchestra, the Nova Chamber Ensemble and the Asko/Schönberg Ensemble. Among his acclaimed publications are a book, "The Percussionist's Art: Same Bed, Different Dreams," and numerous recordings of contemporary percussion music including a 3 CD set of the complete percussion music of Iannis Xenakis (Mode). Mode released a companion recording on DVD of the early percussion music of Karlheinz Stockhausen in September of 2014.
In 2014, Schick received two notable honors: he was named Champion of New Music by the American Composers Forum and he was inducted into the Percussion Hall of Fame. Steven Schick is Distinguished Professor of Music at the University of California, San Diego. In June 2015 he served as the Music Director of the 69th annual Ojai Music Festival in Ojai, California.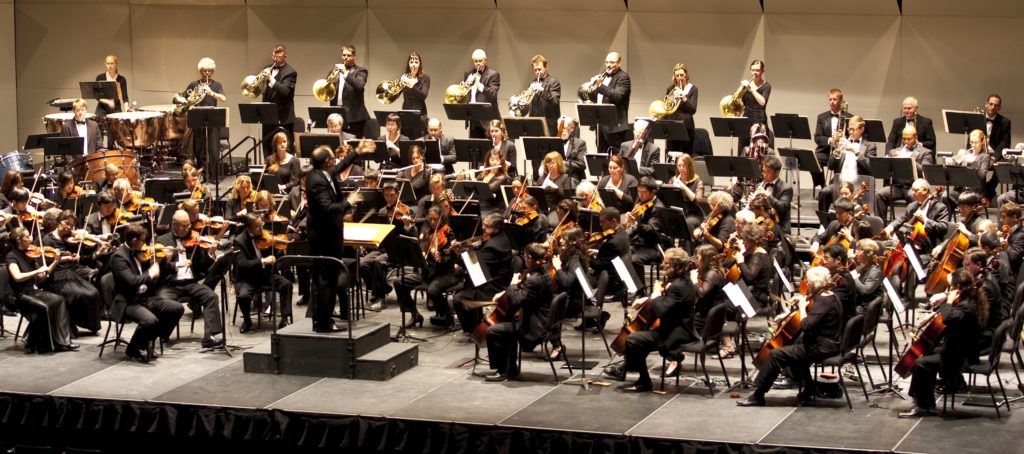 Stephanie Weaver Yankee
Executive Director
858-822-3774
sweaver@ljsc.org
Arian Khaefi
Sally & Einar Gall Chorus Conductor
akhaefi@sdsu.edu

Stephanie Weaver – Executive Director
(858) 822-3774 • sweaver@ljsc.org
Adam Perez – Operations Manager
(858) 534-4637 • boxoffice@ljsc.org
Ted Bietz – Orchestra Manager
(619) 733-6239 • orchestra@ljsc.org
Mea Daum – Chorus Manager
chorus@ljsc.org
Melanie Intrieri (Moore)– Marketing and Development Coordinator
(858) 822-2166 • mintrieri@ljsc.org
Ryan Beard – Orchestra Librarian
rwb76@sbcglobal.net